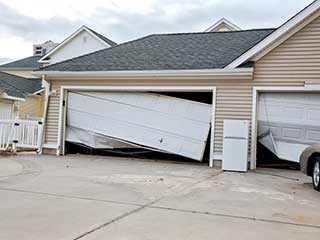 When a problem comes up with the door in your garage, solutions need to be quick and inexpensive. Not being able to use the garage door can cause a major obstacle to your planned day. From minor disruptions or inconveniences to major breakdowns, Garage Door repair Tomball offers the shortest waits for same-day repairs. A broken spring won't let you use the garage door safely? With a call to our local specialists, you can have the spring replaced within the hour. No problem can withstand an encounter with our technicians. When you need quick garage door repairs, you can get solutions applied on the same day you call.
The Garage Door Got Off Track
Not a fun problem to have to deal with, but then what is? If you see your garage door rollers popping out of the track and the panels get stuck when reaching a certain point, you'll need some repairs done most likely. A blockage in the garage door tracks can cause such an issue, as can bending in the tracks themselves. The rollers help the panels move, but with garage door tracks blocked, that's not possible. We offer quick repairs for all garage door track and roller problems in Tomball and nearby areas. Got a garage door cable that came off the drum? Our same-day emergency repairs also cover these problems.
Broken Spring Replacement – Same Day
When you have a problem with the overhead spring of the garage door, you can experience a major disruption to your whole planned day. Attempting to open a garage door with a broken spring is putting the entire system under significant strain. Plus, putting yourself in danger. Replacing garage door springs is a task more dangerous than some understand, due to the considerable tension involved in the process. To do this safely, you need experience and a thorough understanding of the mechanism. Leave it to the nearest garage door spring repair experts around Tomball to avoid dangers and accidents.
Fastest Repairs For Your Tomball Garage Door
Need urgent solutions to problems you weren't expecting to deal with? An affordable and effective fix is always available with Garage Door Repair Tomball. We deliver quick results any day, including weekends. No more waiting around or tearing your hair out trying to figure out how to repair the garage door. Save your strength and mental efforts, and avoid spending more on future repairs. Call and get emergency solutions from the top garage door repair technicians in your area!