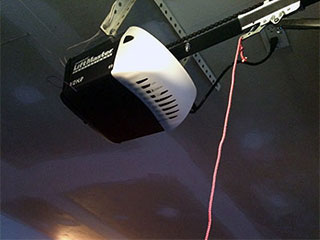 Parts of an Opener
The average garage door is a very heavy piece of equipment and requires several mechanisms working together to raise and lower it. The opener, consisting of one of five types of drivers, is the main force behind the movement. A driver could be a traditional chain, belt, or screw attaching a motor to a trolley, a motor within a trolley, or a motor connected directly to the torsion rods. When your opener breaks, you'll need professional help to deal with parts that could be under a lot of pressure. We have the expertise to handle any setup you have and the right parts to address any issue with your opener.
Why It Sticks
Your garage door opener puts a lot of stress on specific areas that do the most work when your door is lifted and lowered. A worn chain or belt in your driver is one of the first things we look for. Whatever type of driver you have, the piece that attaches the trolley to the motor is under a lot of stress from the weight of the door, and when it wears unevenly, your door might begin to stick or jerk. Additionally, a motor that is burning out could start having trouble lifting or lowering smoothly, just like a tired person would have trouble carrying a heavy box. A door that isn't opening correctly could also be the fault of a trolley coming off its tracks, jamming in certain spots where it is too crooked to move smoothly.
Call in the Experts
The trained technicians at Garage Door Repair Tomball have all the experience they need to find the source of your issues and perform a quality repair job, or replace the part with a new one if necessary. Don't let a jamming opener slow you down for long. We offer same-day service and even emergency repair for those times when you just need help now. Call us today to schedule your appointment.
In addition, count on us for:
Garage Door Tune Up Services
Opener Sensor Replacement
Garage Door Extension Spring Installation
Garage Door Off Track Repair