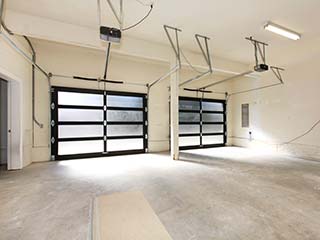 The springs don't lift a garage door, but they allow it to be lifted. They spend all their time pushing back against the weight of the door so that you can lift it without damaging your opener (or your arms). The springs take on all that wear and tear to save you and your more expensive components the damage. This means that sooner or later, those garage door springs will break under the pressure, and then you'll need to replace them. Tomball garage door spring technicians respond to your calls every day of the week, every week of the year, providing same day broken spring replacement at affordable prices. Even if a broken garage door spring takes you by surprise, you can have everything working again in just hours.
Don't Wait To Replace Broken Springs
Opening your garage door is a really bad idea if you think it has a broken spring. At best, the door simply won't open. At worst, your opener will manage to raise the garage door on its own, but damage itself in the process. If a lift cable snaps without the help of the springs to hold up the door, you could even have a dangerous accident. If you live in Tomball or anywhere in the surrounding area, the experts are never more than a few hours away from your address. The spring replacement process itself can also be risky if you haven't been trained to do it, as springs operate under very high mechanical stress. One wrong move and a spring can fly loose and cause serious injury. Call the pros, and don't touch your garage door until they arrive.
Prevent Garage Door Springs From Breaking
If you have the right kind of springs for the weight of your garage door, you can keep track of how long they'll last. A new garage door spring comes with an estimated lifespan measured in opening and closing cycles, assuming the type of door they're rated for. Keep track of every time you use your garage door, and you'll know when the springs are nearing their end. Arrange spring replacement then, and you'll save yourself the trouble of having to deal with an ill-timed break. It's cheaper too!
Broken Spring Repairmen Near Your Tomball Area
There's no need to take pointless risks or to live without a usable garage. Call Garage Door Tomball for services anywhere within driving distance of the city, and we'll take care of your spring problems. Remember that these devices can be dangerous and even lethal if you mishandle their replacement. So don't take risks. Let the professionals save you trouble!